A misogynistic comment Former Republican Mayor Timothy Stewart made about female members of Congress is escalating calls for his removal from his influential position as President of the Chamber of Commerce.
Stewart's recent words renewed a scandal from late 2017 in which he made a comment that was widely criticized as racist. His position at the Chamber of Commerce was protected at that time by the local Republican establishment, despite calls for his removal.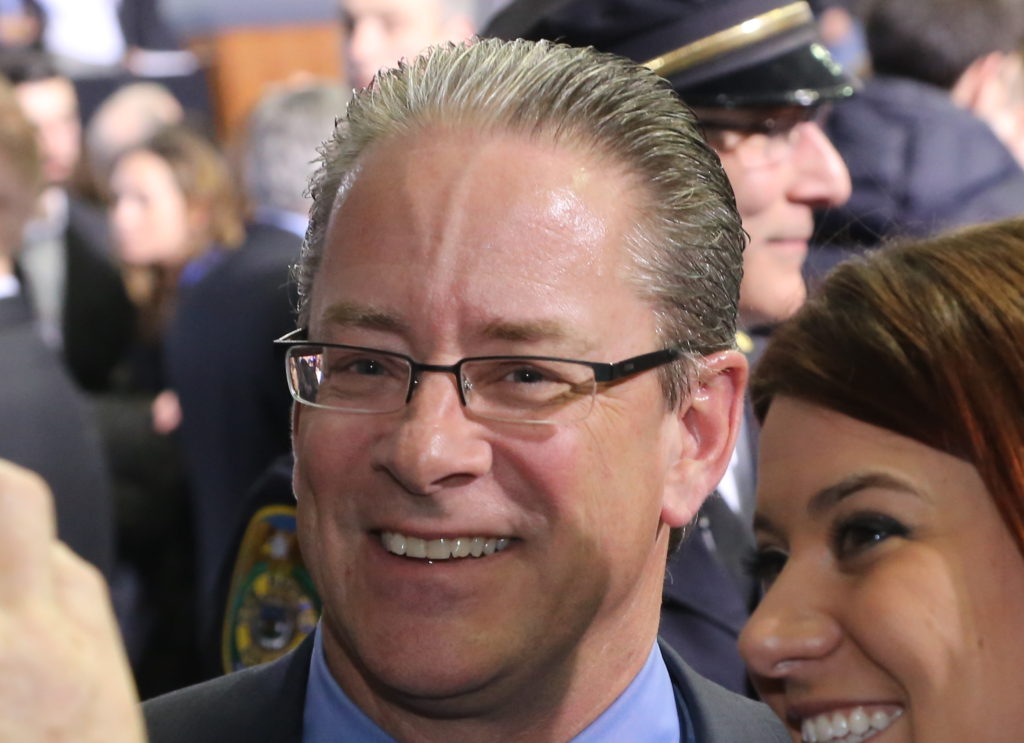 Many people learned of Stewart's recent comment, widely condemned as sexist, when City Council President Ald. Eva Magnuszewski (D-AL) emphatically denounced it in an 11:42pm Facebook post on Tuesday evening (February 5, 2019) after the State of the Union address.
"Former NB Mayor Tim Stewart commented on this FB post featuring a screenshot of the Democratic Women of the US Congress with the following: 'Bitches in Heat,'" Magnuszewski wrote. "He is the President of the Chamber of Commerce, sits on the Mattabassett District & School Building Committee!"
"During the State of the Union," Magnuszewski said, "he refers to women dressed in Suffragette White Clothing with such disgusting terminology in the #MeToo era. It's time for him to resign!"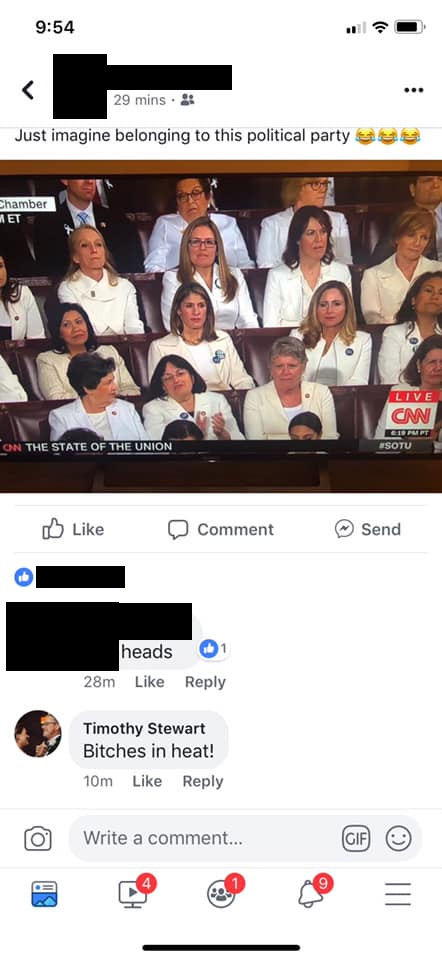 "Last year," Magnuszewski pointed out, "he upset an entire New Britain community by referring to them as convicts! Calls for his resignation came but he continued to keep his job & committee positions!"
Magnuszewski was referring to the 2017 scandal in which Stewart said, "Unfortunately the inmates continue to run the neighborhood," in an online discussion regarding the city's North-Oak neighborhood, a neighborhood that has a large Latino and African American population.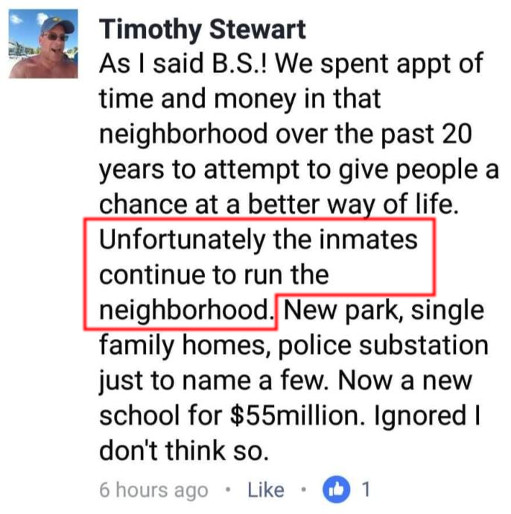 Many people, including the New Britain Branch of the NAACP called on Stewart to resign or be removed from his influential position as Chamber President, and from the Mattabassett District Commission and the city School Building Committee, two influential positions in the administration of his daughter, Republican Mayor Erin Stewart.
The Chamber of Commerce has a close relationship with City Hall in New Britain. The elder Stewart became President of the Chamber shortly after the younger Stewart was elected mayor. The Chair of the Chamber Board of Directors that employs Stewart, Gennaro Bizzarro, is, himself, employed by Mayor Erin Stewart as the city's Corporation Counsel.
In 2017, Erin Stewart sought to distance herself from the scandal roiling the city at that time by saying that the Chamber, "is not an entity of the city." But, meanwhile, it was Bizzarro who announced that the elder Stewart would remain as Chamber President, despite the public outrage.
But the public outrage from Timothy Stewart's most recent derogatory comment intensified criticism of him and calls for his removal.
CCSU President Zulma Toro said, "As this University's first woman and first Hispanic president, I am disgusted with the behavior and attitude he shared. It is further evidence that we have much work to do to improve the culture and discourse as it relates to misogyny."
Democratic Party Chair Bill Shortell commented, "This is the second recent time Mr. Stewart has abused his public trust on FB. A year ago he referred to the people in the North/Oak area of our city, who were struggling to clean up the blight in their neighborhood as, 'The inmates running the asylum.' Somehow he survived that insult. Not this time."
Democratic City Council candidate Bobby Berriault commented, "Barely a year after making a racist statement by referring to fellow New Britain residents living in a particular neighborhood dominated by African Americans and Hispanics as 'inmates', the President of the Greater New Britain Chamber of Commerce and former Mayor of New Britain Tim Stewart has referred to all female Democrats in Congress in a derogatory and sexist manner in a Facebook post last night.
"Tim Stewart must be removed as President of the New Britain Chamber of Commerce!," Berriault added. "His racist and sexist comments have no place in our community, and therefore I call on the Board of Directors of the Greater New Britain Chambers of Commerce to act to remove Mr. Stewart from President of the Chamber now!"
On Wednesday morning Erin Stewart Tweeted, "To all of those asking; I'm embarrassed and mortified."
By Wednesday afternoon (February 6, 2019), it was widely reported, such as by WVIT, that that Bizzaro placed Stewart on administrative leave from the Chamber Presidency, pending further action by the Chamber Board, and that Timothy Stewart has resigned, at Erin Stewart's request, from the two city positions he has held.